In this blog, we will discuss Most popular WordPress plugins, Based on the actual download numbers from WordPress.org,
these are the most popular WordPress plugins of all time that are currently available.
1.Yoast SEO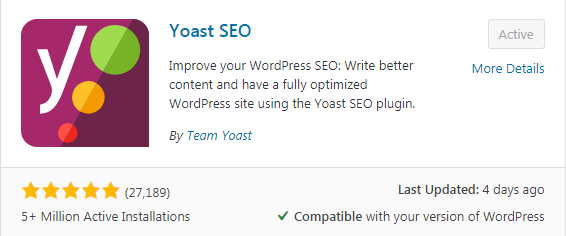 Yoast SEO is the most powerful and most recommended plugin in the WordPress plugin directory, Yoast SEO has helped millions of websites worldwide to rank higher in search engines. This WordPress SEO plugin helps you with your search engine optimization. Are you not entirely convinced? Yoast SEO is the favorite WordPress SEO plugin for millions of users worldwide!
Screenshots :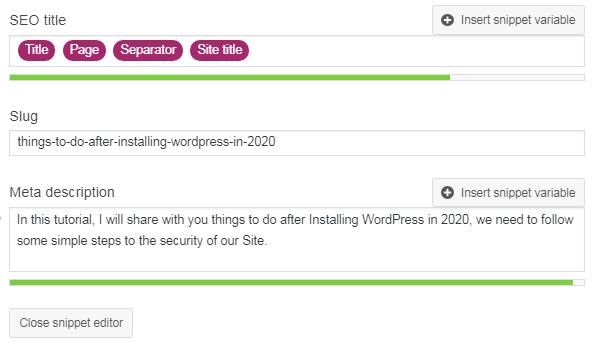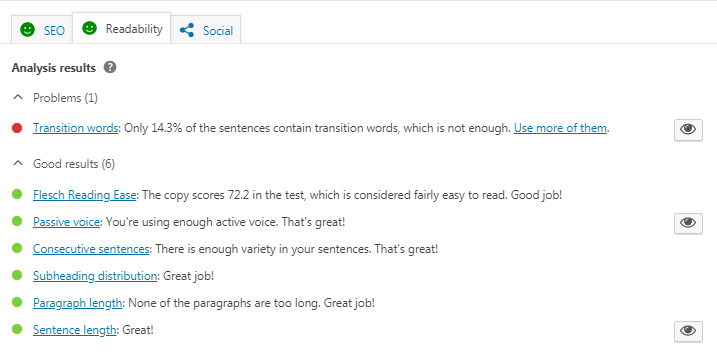 2.Akismet

Akismet also a most popular plugin for all WordPress websites, It checks your comments and contact form submissions against our global database of spam to prevent your site from publishing malicious content. You can review the comment spam it catches on your blog's "Comments" admin screen.
Major features in Akismet include:
Automatically checks all comments and filters out the ones that look like spam.
Each comment has a status history, so you can easily see which comments were caught or cleared by Akismet and which were spammed or unspammed by a moderator.
URLs are shown in the comment body to reveal hidden or misleading links.
Moderators can see the number of approved comments for each user.
A discard feature that outright blocks the worst spam, saving you disk space and speeding up your site.
Screenshots :

3.Elementor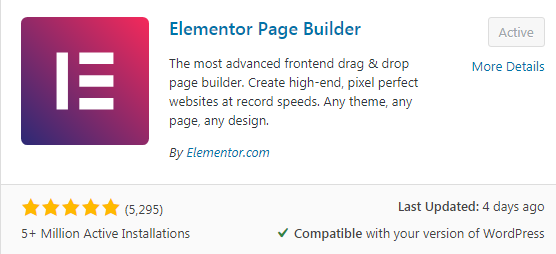 Elementor is also a most popular plugin in the entire world, it is a page builder plugin for designing a beautiful template, it has also 100+ templates in template directory It's about time for a live page builder, with no limits of design. A page builder that delivers high-end page designs and advanced capabilities, never before seen on WordPress.
Major features in Elementor include:
100+ Free Templates.
Good Community Support.
Very rich design.
Responsive in desktop, mobile or tablet devices.
Easy to understand easy to work.
get free premium features.
Screenshots :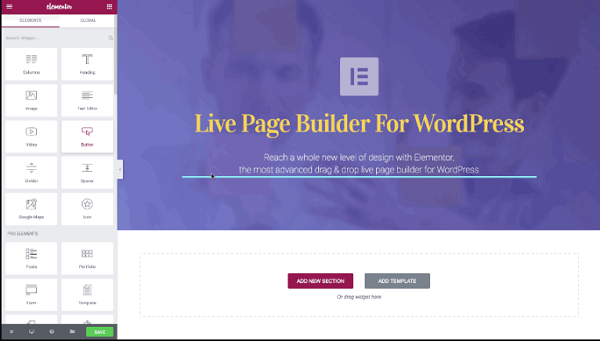 4.WPForms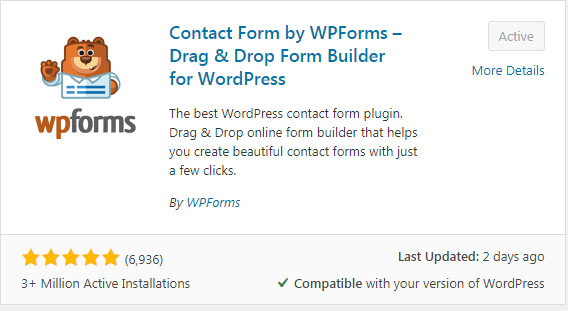 WPForms is also a most popular plugin, WPForms is a drag & drop WordPress form builder that's EASY and POWERFUL.
WPForms allows you to create beautiful contact forms, feedback form, subscription forms, payment forms, and other types of forms for your site in minutes, not hours!
At WPForms, user experience is our #1 priority. Our pre-built form templates and workflows make WPForms the most beginner-friendly contact form plugin in the market.
WPForms is a 100% mobile responsive contact form solution, so your contact forms will always look great on all devices (mobile, tablet, laptop, and desktop).
WPForms' contact forms are also highly optimized for web and server performance because we understand the importance of speed when it comes to SEO, marketing, and conversion. We can honestly say that WPForms is one of the fastest WordPress contact form builder plugins in the world.
Screenshots :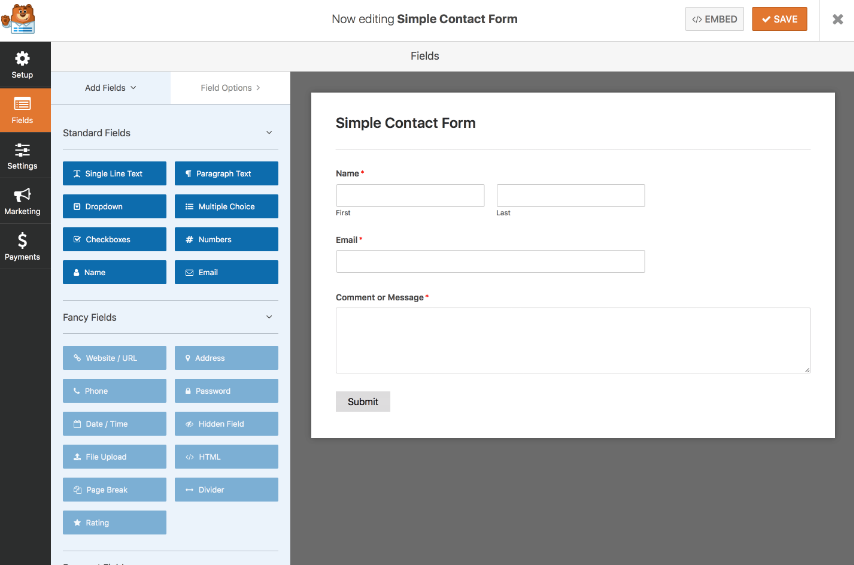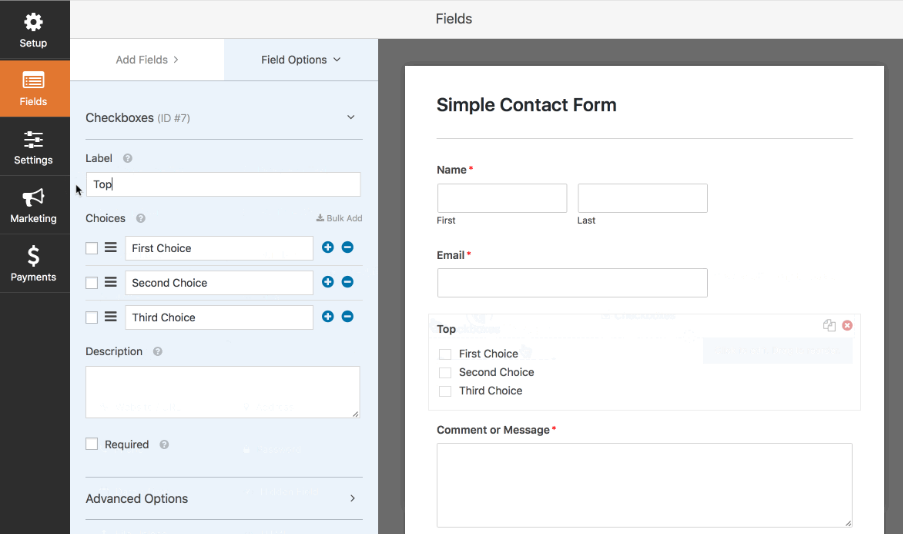 5.WooCommerce
WooCommerce is a flexible, open-source eCommerce solution built on WordPress. Whether you're launching a business, taking an existing brick and mortar store online, or designing sites for clients you can get started quickly and build exactly the store you want.
Activate the free WooCommerce plugin on a new or existing WordPress site, follow the optional guided tour, and set up a new store in minutes with:
Major features in WooCommerce include:
Product, Cart, and Checkout pages
Secure payments by credit card and alternatives
Configurable shipping options, including flat rates and label printing
Integrate content and commerce across your site via modular blocks
Automated tax calculations
Google Analytics, MailChimp, and Facebook integration
Central store dashboard with key metrics, and more.
Screenshots :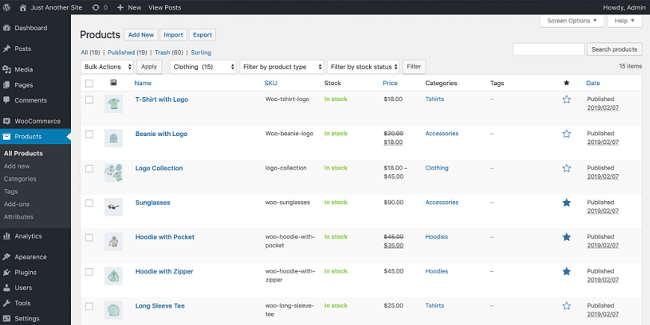 7.LoginPress
It is a Custom Login Page Customizer plugin for changing admin panel, LoginPress Plugin by LoginPress holds a lot of customization fields to change the layout of the login page of WordPress. You can modify the look and feel of the login page completely even the login error messages, forgot error messages, registration error messages, forget password hint message, and many more.
LoginPress Plugin would give you and your users a feeling that it is a custom login page and a part of the site layout. You must check out the Demo video of how you can customize the WordPress login page.
Major features in LoginPress include:
Logo: Can change the login logo image, width, height, padding, URL, and Title.
Background: You can customize the background Image or Color. Set its position, Size, and repeatable property.
Login Form: Even you can customize the login form image or color, width, height, padding, and border. Moreover customize Input Text Field width, margin, text color, label color, and background color.
Forget Form: Beauty of the plugin here you can change the background or color of the forget form.
Error Messages: Main Feature of the plugin. You can change the error log messages as you want to show users form – LoginPress Error Messages.
Welcome Messages: Same as error log messages you can customize the welcome messages from LoginPress – Welcome Messages.
Form Footer: After the login Button, here is form footer. You can customize the footer text, display, text-decoration, text color, text hover color, and text size. In this section, you can also customize the page footer text.
Screenshots :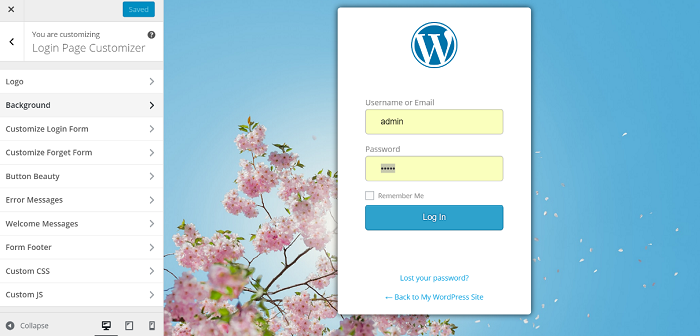 8.W3 Total Cache
Major features in LoginPress include:
Improvements in search engine result page rankings, especially for mobile-friendly websites and sites that use SSL
At least 10x improvement in overall site performance (Grade A in WebPagetest or significant Google Page Speed improvements) when fully configured
Improved conversion rates and "site performance" which affect your site's rank on Google.com
"Instant" repeat page views: browser caching
Optimized progressive render: pages start rendering quickly and can be interacted with more quickly
Reduced page load time: increased visitor time on site; visitors view more pages
Improved web server performance; sustain high traffic periods
Up to 80% bandwidth savings when you minify HTML, minify CSS, and minify JS files.
Screenshots :